09.02.2019
Belhydromet as a support team took part in sport festival «Minskaya lyzhnya - 2019»
On January 9, 2019 sport festival "Minskaya lyzhnya - 2019"" was held in suburb Vesnyanka. About 5000 people were watching the event. 
Belhydromet workers also visited the event. 
It was significantly, that first time sport event was held in different format. For the first time in history audience could watch biathlon. 
Two dozens of teams took part in race for 3 and 4 kilometers in the first start of marathon. Among them teams of Presidential Administration, Ministers' Council, regional governments, City Executive Committee, Supreme Court and Constitutional Court, Management of Presidential Affair, Chamber of Representatives, National Olympic Committee.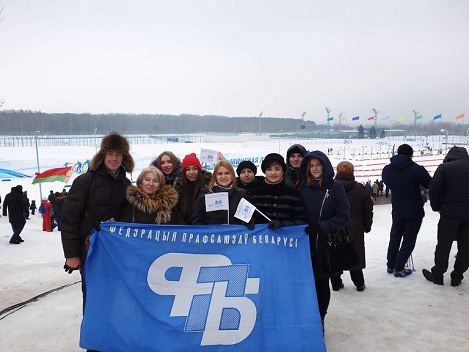 Also famous sportsmen and figures of different spheres, belarussian pop-stars, journalists. teams of ministries and institutions were competed between each other.
Belhydromet representatives were watching the race and target shooting with pleasure. 
Among biathlon in Vesnyanka was held ski batons. The most spectacular was of course mass start, where all interested took place. About 3000 people participated. 
Supporters enjoyed the nice weather and holiday atmosphere. Event organizers did their best. Territories reserved for games were full of people crowds. Guests could participate in different competitions, folk games and competitions, for example tug-of-war. Mascots played with children and adults, photographed with all who wish.  Artists and artistic groups pleased guests with performances. Small shops and cafes worked on the territory.  People could try soldiers porridge and hot tea.
Despite Belhydromet specialists didn't take part in competitions, they made a choice for active rest on fresh air, showed themselves as active supporters and got unforgettable emotions.