27.03.2019
Action "Earth Hour" will be held on March 30 from 20.30 to 21.30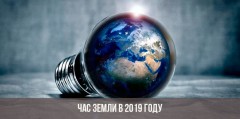 The Minsk City Committee for Natural Resources and Environmental Protection calls on all concerned to take part in global action "Earth Hour" and to turn off the light on March 30 for one hour from 20-30 to 21-30. 
Earth Hour is an international action in which the World Wide Fund for Nature calls for turning off the lights and household appliances for one hour as a sign of concern for the future of the planet. At the same time, lights of the most famous buildings and monuments of the world are turned off. This year the action will be held in Belarus for the 11th time. The purpose of Earth Hour is not to save electricity. This promotion is a symbol of respect for nature. From year to year this event allows drawing attention to the need of responsible attitude to nature.
Today, Earth Hour is the most massive environmental event on the planet. Last year more than 2 million people from 187 countries of the world took part in it, the lighting of more than 3,100 architectural sites was turned off. In Belarus events took place in 22 localities, the lighting of the central architectural sites was turned off. Last year illumination of National Library, National Academic Bolshoi Opera and Ballet Theater, Yanka Kupala National Academic Theater, Belarusian State Philharmonic Society, National State Museum of the History of Great Patriotic War, as well as more than 250 architectural highlights were turned off in Minsk. 
Since this is an absolutely voluntary action, people decide for themselves how many and which devices they turn off, and the city authorities initiate switching off the illumination of city objects. For security reasons organizers of the action do not recommend to turn off street lighting, aeronautical lights and traffic lights. Turning off lights for an hour is not difficult, but even behind such a symbolic action is an opportunity to help the planet by changing its daily habits.
How? For example, it is reasonable consumption of electricity and heat, water and recycling paper and other materials. It reduces greenhouse gas emissions - the main cause of current climate change, which corresponds to the provisions of Presidential Directive No. 3 of June 14, 2007 of the year.