05.09.2022
Overview of hydrological situation of September 5, 2022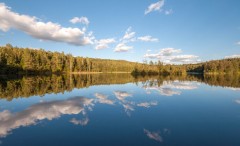 As of September 5, the country's rivers are experiencing a decline in water levels with an intensity of 1-8 cm per day. 
Unfavorable conditions for the work of river transport are observed on the Zapadnaya Dvina near Vitebsk, the Neman near Grodno, the Dnieper near Mogilev, Zhlobin, Rechitsa and Loev, Berezina near Bobruisk and Svetlogorsk, Sozh near Krichev, Slavgorod and Gomel, Pripyat near Chernichi and Mozyr. 
The water content of the Neman, Vilia, Dnieper, Berezina and Sozh is close to the usual for this time of year and somewhat less than it, and the water content of the Zapadnaya Dvina and Pripyat is two times less than the usual for this time of year.
The water temperature has dropped and is 8.5-20°C in rivers, 17-19°C in reservoirs.
In the next five days, there will be no significant changes in the level regime of rivers, the water temperature in rivers and reservoirs will decrease.
When using the information reference to Belhydromet is obligatory