19.02.2021
Overview of hydrological situation of February 19, 2021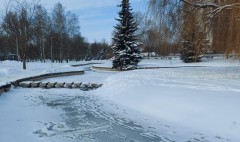 As of February 19, freeze-up is observed almost everywhere on the water bodies of the country, in some places ice holes are observed in the ice cover.
On rivers, there is mainly a decrease in water levels with a daily intensity of 1-16 cm. On the Dnieper near the town of Loyev, a tributary of the Berezina to the Svisloch river near the village of Terebuty, the tributaries of the Pripyat rivers, the Sluch near the village of Lenin and Ptich near the village of 1-ya Slobodka, the water levels exceed the level of water outlet to the floodplain.
In the next five days, due to the expected weakening of frosts, ice and snow cover will melt in most of the country, as a result of which the rivers will mainly observe an increase in water levels. On Viliya, near the village of Steshitsa and Pripyat, near the village of Chernichi, the water levels will exceed the mark of water outlet to the floodplain. Water on the ice will appear on the country's water bodies, and the ice structure will change.