10.02.2021
Overview of hydrological situation of February 10, 2021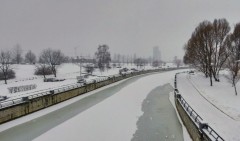 As of February 10, freeze-up is observed on the rivers of the country with a thickness of 8 cm to 31 cm, in some places in the ice cover polynyas are noted.
On the reservoirs Vileyskoye, Chigirinskoye, Zaslavskoye, Soligorskoye, Krasnaya Sloboda, lakes Lukomskoye, Drivyaty, Naroch and Chervoneye, there is a continuous ice cover, the ice thickness has increased and is 21-35 cm.
On rivers, fluctuations in water levels with an intensity of 1-13 cm per day are observed. The water levels exceed the marks of water outlet on the floodplain on the Dnieper near Loyev, Berezina near Berezino and Svetlogorsk, Sozhe near Slavgorod, tributaries of the Pripyat rivers Sluch near Lenin and Ptich near 1-ya Slobodka.
In the coming days, significant changes in the level and ice regimes of rivers are not expected.