31.08.2022
Overview of hydrological situation of August 31, 2022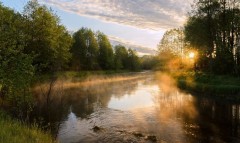 As of August 31, the country's rivers are mainly marked by a decline in water levels with an intensity of 1-7 cm per day. A slight (1-3 cm per day) increase in water levels is observed on the Zapadnaya Dvina in the Polotsk – Verkhnedvinsk, Pripyat section near Pinsk (Lyubansky Bridge), some of their tributaries, as well as individual tributaries of the Neman, Zapadny Bug and Sozh.
Unfavorable conditions for the operation of river transport are observed on the Zapadnaya Dvina near Vitebsk, the Neman near Grodno, the Dnieper near Mogilev, Zhlobin, Rechitsa and Loev, Berezina near Bobruisk and Svetlogorsk, Sozh near Krichev, Slavgorod and Gomel, Pripyat near Chernichi and Mozyr. 
The water temperature is 14-23°C in rivers, 20-23°C in reservoirs.
In the coming days, the decline in water levels will continue on most rivers, the water temperature will decrease.
When using the information reference to Belhydromet is obligatory