15.08.2022
Overview of hydrological situation of August 15, 2022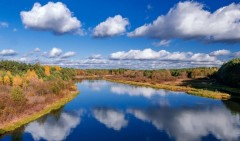 As of August 15, the country's rivers have a decline in water levels with an intensity of mainly 1-8 cm per day, only on the river Viliya near the village Steshitsa, Pripyat near the town Mozyr and its individual tributaries, there is a slight (1-2 cm per day) increase in water levels.
As before, water levels exceed the water outlet marks on the floodplain on the tributary of the Neman river Ross at the village Studenets and a tributary of the Zapadny Bug to the Lesnaya river near the town Kamenets. 
Unfavorable conditions for the operation of river transport are observed on the Zapadnaya Dvina near Vitebsk, the Neman near Grodno, the Dnieper near Mogilev, Zhlobin, Rechitsa and Loev, Berezina near Bobruisk, Sozh near Krichev, Slavgorod and Gomel. 
The water temperature has not changed significantly and is 14-23 °C in rivers, 22-23 °C in reservoirs.
Until the end of this week, the decline in water levels on the rivers will continue, as a result of which the water levels on the Berezina near Svetlogorsk and Pripyat near the village of Chernichy will drop below the marks limiting navigation.
When using the information reference to Belhydromet is obligatory