07.04.2021
Overview of hydrological situation of April 7, 2021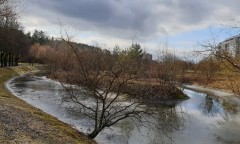 In the past day, on the Pronya River, a tributary of the Sozh, near the village of Letyagi, the water level exceeded a dangerous high mark.
As of April 7, incomplete freeze-up is observed only on Lake Drivyaty and the Chigirinskoye reservoir.
An increase in water levels is observed in the Western Dvina, Sozha, Pripyat and individual sections of the Dnieper, however, the growth rate has decreased and is 1-13 cm per day. On the Neman, Viliya, Western Bug and Berezina, there is mainly a decrease in water levels and their even course.
The water is located on the floodplain on a tributary of the Western Bug to the Narev River near the village of Nemerzha, the Dnieper near the town of Loev, the Berezina near the city of Berezino, its tributary to the Svisloch River near the village of Terebuty, Sozhe near the town of Krichev and the town of Slavgorod, and its tributaries the Vikhra near Mstislavl, Oster near Khodun village, Pronya near Letyagi village, Besed near Svetilovichi village and Iput near Dobrush town, Pripyat near Chernichi village, Petrikov town, Mozyr town and Narovlya town, its tributaries rivers Styr near the village of Lopatino, Goryn near the village of M. Vikorovichi, Sluch near the village of Lenin, Stvig near the village of Korotichi, Ubort near the village of Krasnoberezhye and Ptich near the village of 1st Slobodka.
Water levels exceed dangerous high marks: on Pripyat near the town of Petrikov by 4 cm, there is an increase in the water level with an intensity of 1 cm per day; on the tributary of the Sozh River Pronya near the village of Letiagi by 2 cm, there is an increase in water levels with a daily intensity of 4 cm.
The water level is close to a dangerous high mark on the Pripyat near the village of Chernichi, until it reaches 14 cm, there is an even course of the water level.
In the coming days, fluctuations in water levels will be observed on the country's rivers.