13.04.2021
Overview of hydrological situation of April 13, 2021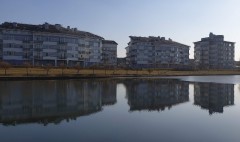 In the past day, on the Pripyat near the city of Petrikov, the water level dropped below a dangerous high mark, and on the Sozh tributary to the Pronya river near the village of Letyagi, the water level dropped below the mark of the water outlet to the floodplain.
As of April 13, the increase in the water levels of the spring flood continues on the Dnieper at the source - Rechitsa section with an intensity of up to 8 cm per day. On the rest of the rivers of the country, there is a decline in water levels and their even course.
On the Neman near Grodno, the water level is below the mark that limits navigation.
The water is located on the floodplain on a tributary of the Western Bug to the Narev River near the village of Nemerzha, the Dnieper near the town of Zhlobin and the town of Loev, the Berezina near the town of Berezino, Sozhe near the town of Krichev and the town of Slavgorod, its tributaries the Oster rivers near the village of Khodun, Pronya near the village of Letyagi, Besed near the village of Svetilovichi and Iput near the town of Dobrush, Pripyat near the village of Chernichi, the town of Petrikov, the town of Mozyr and the town of Narovlya, its tributaries of the Styr rivers near the village of Lopatino, Sluch near the village of Lenin, Stviga near the village of Korotichi, Ubort near the village of Krasnoberezhye and Ptich near the village of 1st Slobodka.
The water temperature in rivers and reservoirs ranges from 3.2°C to 11°C.
In the coming days, the above hydrological situation will not change significantly.