12.04.2021
Overview of hydrological situation of April 12, 2021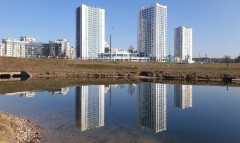 During the past period (April 10-11), on the Berezina tributary, the Svisloch river near the village Terebuty and the Sozh tributary to the Vikhra river near the town of Mstislavl, the water levels dropped below the marks of the water outlet to the floodplain. On the Pronya River near the Letyagi village (a tributary of the Sozh), the water level dropped below a dangerous high mark.
As  of April 12, on most rivers of the country, a decrease in water levels with a daily intensity of 1-26 cm is observed. An increase in water levels is noted over a greater length of the Dnieper and some parts of the Sozh with an intensity of 3-6 cm per day.
On the Neman near Grodno, the water level is below the mark at which there are difficulties in the operation of river transport.
The water is located on the floodplain on a tributary of the Western Bug to the Narev River near the village of Nemerzha, the Dnieper near the town of Zhlobin and the town of Loyev, the Berezina near the town of Berezino, Sozhe near the town of Krichev and the town of Slavgorod, its tributaries the Oster rivers near the village of Khodun, Penetrating at
Letyagi, Besed near the village of Svetilovichi and Iput near the town of Dobrush, Pripyat near the village of Chernichi, the town of Petrikov, the town of Mozyr and the town of Narovlya, its tributaries the Styr rivers near the village of Lopatino, Sluch near the village of Lenin, Stvig near the village of Korotichi, Ubort near the village of Krasnoberezhye and Ptich near the village of 1st Slobodka.
On Pripyat, near the city of Petrikov, the water level reaches a dangerously high level, here there is a decrease in the water level with a daily intensity of 1 cm.
The water temperature in rivers and reservoirs ranges from 3,1°C to 11°C.
In the coming days, most rivers will experience a drop in water levels, as a result of which the water level in Pripyat near the city of Petrikov will drop below a dangerous high mark, and on the tributary of the Sozh River, the Pronya near the village of Letyaga, the water level will drop below the mark of the water outlet to the floodplain.