24.08.2021
Overview of agrometeorological situation of August 24, 2021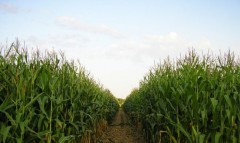 Good heat supply for most of the growing season and in the prevailing territory of Belarus, the abundance of soil moisture contributed to the formation of the corn crop. In the South-Eastern part of the republic, maize has been negatively impacted by a prolonged soil drought.
According to the latest observation data, grain is being poured (milk ripeness) on the main maize tracts, in the southern half of the republic, one and a half to two weeks ahead of last year, ripening has begun - wax ripeness has begun. The cobs continue to form on late crops. The onset of milky-wax and waxy ripeness of grain is the optimal time for harvesting corn for silage. To obtain high-quality forage, it is advisable to harvest silage crops before the onset of full ripeness.
In the near future, conditions for the maturation of corn grain will be better in the eastern part of the republic, where warmer weather is expected.