30.10.2018
Forecast information of ice formation on rivers in 2018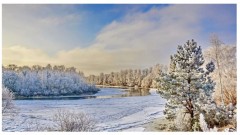 Decrease of water level has prevailed on rivers in first and second decades of October. Small increase of water level due to precipitation marked in the third decade. Water content was lower than usual for this season. 
October was warm, average month temperature was 1-2ºС above climate normal, that is why average monthly turned out to be 1-2 ºС above climate normal for this season.  
Rivers' water temperature stayed within 4,0ºС - 14ºС, in October water temperature in rivers didn't decrease significantly. At the date of forecast release  water temperature in rivers' basins: Zapadnaya Dvina  2,8-6,6 ºС, Neman 7,0-9,8 ºС, Viliya 5,0-7,0 ºС, Western Bug 6,6-10 ºС, Dnieper 4,3-7,6 ºС, Berezina 5,0-7,6 ºС, Sozh 2,2-7,2 ºС, Pripyat 7,0-11 ºС.  
Appearance of ice formation is expected later than long – term   periods: in the Zapadnaya Dvina, the Dnieper and the Sozh  basins at the end of November – at the beginning of December; at the first decade of December in the Neman, the Vilija, the Berezina; in the Pripyat  basin in the second decade of December. In the period of ice formation and due to ice jams, rough diurnal variations are possible on rivers. 
After the beginning of ice formation, cessation or partial damage of ice formation are possible on water objects after entering heat air masses on the territory of Belarus.  
It's not excluded appearing of short-term ice formations in the second decade of November due to possible invasion of cold air masses on the territory of Belarus. 
Due to the weather fickle disposition and increased temperature regime, forecast of ice formations appearing on rivers will be specified after making long-term forecast  for December.