06.02.2020
Climate characteristic of January 2020
Average temperature in the Republic of Belarus in January 2020 was 1.1 ° C that is 5.5 °C above climate normal. Such warm January in the history of meteorological observations was observed for the first time. January temperature record before that was + 0.5 ° C.      
Deviations of average air temperature of January from climate normal in the Republic of Belarus    
Average daily air temperatures were mostly positive, except separate days, when temperature dropped up to -1 -3 °C.  Temperature dropped up to -4 -5 °C on the coldest nights in places. The lowest air temperature in the republic for January (-5.7 °C) was registered in Volkovysk on January 6. 
Air temperature exceeded + 5 °C on the warmest days of the month, and it reached its maximum (+ 8.1 °C) in Volkovysk and Brest on January 11 and 15 respectively. 
All three decades of January were warm, and the third decade of the month was the warmest with an average air temperature 6.0 °C above climate normal. The temperature of the first and second decades exceeded climate normal by 4.7 and 5.8 °C, respectively.  
 Average air temperature of January and climate normal for decades in the Republic of Belarus 
36.8 mm of precipitation fell out in Belarus during the month that is 92% of climate normal. Precipitation spread unevenly throughout the country. The largest number of them was recorded in Vitebsk region - an average 41.1 mm (91% of climate normal), the smallest - in Brest region - an average 26.8 mm (72% of climate normal).     
Amount of precipitations in January and climate normal across the regions and Republic of Belarus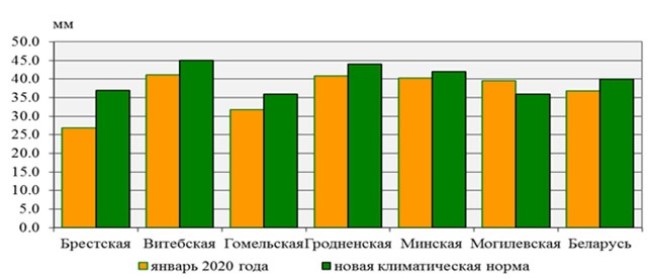 Precipitation fell out mainly in forms of rain, snow and wet snow. Maximum daily rainfall (18 mm) was recorded in Slavgorod on January 30. Formation of stable snow cover was not observed during the month. Snow cover appeared on a separate day for a short time, in places its height reached 12 cm. 
Fog and sleet were observed in places on separate days, sleet on roads, and wind up to to 15 m / s and higher were registered. The maximum wind speed (21 m / s) was registered at Grodno weather station on January 22, and a thunderstorm was also observed on this day in Minsk and Mogilev. The last time this rare phenomenon in winter was observed in January in Minsk in 1958, and in Mogilev in 1983.