29.10.2019
Review of the agrometeorological situation of October 29, 2019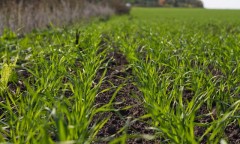 Unusually warm weather predominated in October has extended the period of autumn vegetation of winter cereal crops. According to recent observation data, tillering was observed on the main lands of winter cereal crops. This is optimal phase for overwintering. Third leaf is registered in the fields sown in the end of September, seedlings – on the fields sown in October. State of winter cereal crops is good on the observed fields. Because of a drop in a temperature, active vegetation of winter crops will stop in the coming days. Frost acclimation will be under way on the plants.
Topsoil is in a well-moistened state in most of Belarus. Topsoil is poor moistened because of precipitation deficit only in some areas of the southern part of the Republic that worsens quality of underwinter soil treatment.
Because of expected cold weather, farms need to accelerate the completion of harvest works of late agricultural crops.