05.07.2019
Review of the agrometeorological situation of July 5, 2019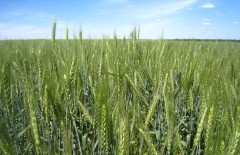 According to recent observational data, ripening of winter cereal crops has started in large territory of the Republic of Belarus – gold ripeness was registered, complete ripeness was registered in certain areas of Gomel region and in south-west of Brest region. Average amount of grains in the main spike is about 35-45 on most of observational sites, it is up to 50 – on selected units. Smaller spike was formed mainly in the north-west part and in the south-east of Belarus – about 23-31 grains. Grain moisture is increased on the observed fields – 25-36%, in certain areas of the south of Belarus – 16-20%. Grain filling is observed on the fields with spring cereals. Ripening of barley and oat started in the southern part of Belarus – gold ripeness was registered, complete ripeness – in certain area of Gomel region. Development of spring crops outgoes the ones of last year by 1-2 weeks, according to some meteorological stations – by 3 weeks.
Because of uneven distribution of precipitations, part of cereal crops still lacks soil moisture. Meteorological stations Oshmiany and Maryina Gorka registered an increase of areas with damaged cereal crops – yellowing and leaf drying because of soil drought. 
Predominance of decreased temperature in the first half of June and rains of different intensity will slow ripening and grain drying. According to calculations, complete ripeness of winter cereals on the main fields is expected in the 2nd decade of July, in the southern part of Belarus – at the end of the first decade of July.