22.06.2022
June 22 - the Day of National Remembrance of the victims of the World War II and the genocide of the Belarusian people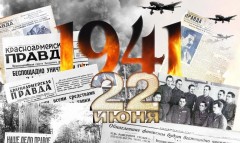 June 22
is
a mournful date in Belarus -
the Day of National Remembrance of the victims of the World War II and the genocide of the Belarusian people
.
At dawn on June 22, 1941, Germany fascist violated the non-aggression pact and began a war against the Soviet Union.
In the first hours of the war, Brest and the fortress were subjected to massive shelling and air bombardment. The heroic garrison of the Brest Fortress stubbornly fought the enemy for more than a month.
During the World War II the hydrometeorological service of Belarus suffered heavy losses. About 300 skilled workers were lost; over 85% of stations and 90% of posts were completely destroyed; most of the valuable equipment and fund of scientific and technical materials were destroyed or taken to Germany.
Only by the end of 1944, thanks to the work carried out, the hydrometeorological service of Belarus was basically restored.
Belhydromet honors the memory of those who, at the cost of their lives, fulfilled their duty to defend the Motherland.
The All-Belarusian minute of silence will be held on June 22, 2022 at 12.00.
Everyone can take part in a moment of silence. At 12.00 you need to stop for a minute and honor the memory of those who died during the war.

When using the information reference to Belhydromet is obligatory