30.09.2020
Forecast information on minimum water levels in rivers in October 2020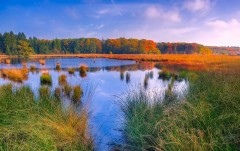 Overview of the water regime of rivers in September
In the first decade of September, on most rivers of Belarus, there was an increase in water levels due to precipitation, as a result of which conditions for river transport on the Western Dvina near Vitebsk were improved. In the second and third decades of September, a decline in water levels prevailed on the rivers.
In September, the water content of the Western Dvina was slightly higher than usual for this time of year, the water content of the Berezina, the Dnieper, the Sozh and the Neman near Stolbtsy was close to the norm, and the water content of the Viliya, the Zapadny Bug, the Pripyat and the Neman in the Belitsa – Grodno section was two times less than the norm.
In some parts of the Neman, the Viliya and some tributaries of the Pripyat, the values of the minimum water levels were close to multiyear minimums for this month.
At present, there is a decrease in water levels with a daily intensity of
1-14 cm on the rivers of Belarus. Unfavorable conditions for the operation of river transport are observed on the Neman near Grodno, on the Dnieper near Mogilev, Zhlobin, Rechitsa and Loev, on the Berezina near Bobruisk and Svetlogorsk, on the Sozh near Krichev, Slavgorod and Gomel.
Forecast information on minimum water levels in October
In October, the minimum water levels in rivers are predicted to be below the long-term average values. On the Neman, the Berezina, the Pripyat and in the lower reaches of the Sozh, the minimum water levels are expected to be close to the lowest values for the entire observation period, and on the Neman near Grodno, the water level will drop below the multiyear minimum.