18.10.2019
Review of the agrometeorological situation of October 18, 2019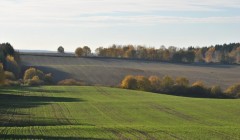 Warm weather contributes to active vegetation of winter cereal crops. According to recent data, 3rd leaf is observed on the fields with winter cereal crops, tillering continues on third part of the sowings. Winter cereal crops have emerged on the fields sown in late September, grain germinations was observed on the late October sowings.
According to data of visual observations, 10 cm topsoil is in a good moistened state in most of Belarus that is favorable for harvest works and autumn ploughing uplift. Heavy moistening of 10 cm topsoil remains in certain areas of Vitebsk region. Poor moistening of topsoil is registered in the south-east of Gomel region.
In the coming days, predominance of dry weather will be favorable for agricultural activities. Agrometeorological conditions will contribute to further development of winter cereal crops and seedlings emergence on the latest sowings of October.