12.07.2019
Review of the agrometeorological situation of July 12, 2019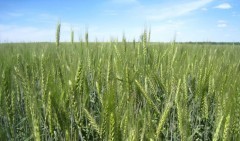 According to recent observational data, ripening continues on the large fields of winter cereal crops – wax ripening was registered, in the southern part of Belarus – complete ripening. Wax ripening was also registered on the spring barley and oat, complete grain ripening was observed in the south. Grain moisture is increased. Lodging of cereal crops was registered in some areas of the Republic after torrential rains and heavy wind.
Past rains caused an increase of soil moisture content. According to the results of the instrumental moisture measurement made on July 8 by meteorological stations, content of productive moisture in soil were good and moderate throughout the country. However, there was still a deficit of soil moisture under maize, potato, root crops and herbs during moisture measurement in the western part, certain areas of central and south-eastern parts of the country.  
Past rains and expected rains in the coming days will provide sufficient water availability of agricultural crops. In addition, rains will slow drying of cereal crops grain, complicate conditions for harvest of winter rape and cereal crops, silage making.